ZenBusiness review: It can be difficult to start a business. There is a lot of paperwork involved. ZenBusiness helps make it easier. ZenBusiness assists you in filing your business formation documents with the state. This provides a personalized experience and more guidance than any new business owner can do on their own.
ZenBusiness is an excellent option for anyone looking to start a company. It offers affordable prices and fast processing times.
My ZenBusiness review compares the pros and cons and why I think they are a good choice to consider.
ZenBusiness compared to the Best LLC Services
ZenBusiness has many advantages, especially when it comes to setting up your business legally and correctly. ZenBusiness is also known for its excellent customer service and reasonable rates. ZenBusiness is actually our top recommendation in our review of the best LLC service :
ZenBusiness, like our top picks for legal services, can help you create different types of corporations and LLCs. Although it doesn't offer the same level of legal resources as LegalZoom. However, our research team loved the ZenBusiness filing process.
It is easy to follow and provides step-by-step instructions. ZenBusiness is a great choice for most people who want to start a business.
ZenBusiness: The Pros And The Cons
The Pros
ZenBusiness is a centralized, integrated platform that streamlines the process of starting a business. It also keeps all your important information in one place. ZenBusiness makes it easy to keep track of the progress of every step in your business creation. You don't need to worry about managing deadlines or prioritizing across different platforms.
Excellent Support ZenBusiness formation specialists are available for customer support during normal business hours. This support is available throughout the life of your company. ZenBusiness also offers detailed Q&As, resources, and articles to assist you in starting your business.
Additional Add-Ons ZenBusiness offers three packages. However, it also offers a variety of add-on services like registered agents, worry-free compliance and annual reporting. By adding on services that you require, you can tailor a package to suit your business needs without having to pay a lot for services you don't need.
Worry-Free Compliance: ZenBusiness' Worry-Free Compliance is one of its most valuable services. ZenBusiness manages your state filings and helps you stay compliant. ZenBusiness experts will help you get back on track if you do ever fall short of compliance. This can provide significant peace of mind for new business owners.
Fast Processing Times: Many ZenBusiness customers report that they receive their LLC formations in just a few days. If you are in a hurry and need to speed up the process, the Premium and Pro plans offer faster processing.
Pay it Forward: ZenBusiness, a Public Benefit Corporation that helps small businesses grow through loans and grants, is ZenBusiness. Your company will support a small business that in turn supports other small businesses. ZenBusiness granted grants worth more than $100,000 to small businesses in 2020.
Useful Resources: A quick glance at the ZenBusiness website reveals that this site is intended to assist entrepreneurs and small businesses. You will find useful information and guidance on almost every page. This gives you all the information you need to make informed decisions about how best to run your business.
Business Website Option ZenBusiness provides a range of tools that will help you create a professional online presence. This includes a domain name, a security certificate, as well as a business website.
The Cons
Filing fees not included: Since filing fees are different by state, they aren't included in ZenBusiness pricing. This applies to all services. However, you will need to budget for the state fees in the total cost of ZenBusiness.
Non-profit formations: ZenBusiness does not offer filing and formations for nonprofit corporations
Subscription Model ZenBusiness operates on an annual subscription model. These plans are less valuable than the annual subscriptions because most services such as LLC formation occur once. It would be more practical to pay a one-time fee for business formation services.
Limited website capabilities: Although it offers business website services there are very few website templates and customization options. A dedicated website builder may be more beneficial for your company if you are involved in ecommerce.
Non-profit formations: ZenBusiness does not offer a filing and formation service for nonprofit corporations.
Pricing and Options for ZenBusiness
ZenBusiness offers three business formation packages that are annually billed. These plan prices do not include state filing fees. This can vary depending on your location. For a more accurate budget, check your state's filing fee and add them to the plan rates.
The Starter Plan starts at $0 plus any state fees. It provides the basic services that you need to start your business and create an LLC. The plan provides assistance with filing your LLC paperwork and an operating agreement template you can use to start your business.
The Pro plan is $199 and will likely be the most suitable for most businesses. The Pro plan includes everything in the Starter plan, as well as valuable items such a bank resolution template and a 100% accuracy warranty. The most important thing about the Pro plan is that it includes an Employer ID number, which you will need in order to run your LLC.
If you are looking to quickly start your LLC and need to file quickly, the Pro plan will expedite your filing process.
You can upgrade to the Premium plan for $299 per year to get a more comprehensive plan. However, you will need to decide if you really need the extra items that are included in the Premium plan.
The Premium plan also includes the Pro plan's items, but the Premium plan also includes a website, a domain name, privacy and a business email. This can be a great way to quickly get your business online if you don't have plans yet to create a website or email.
This would not be necessary if you have already started work on these items.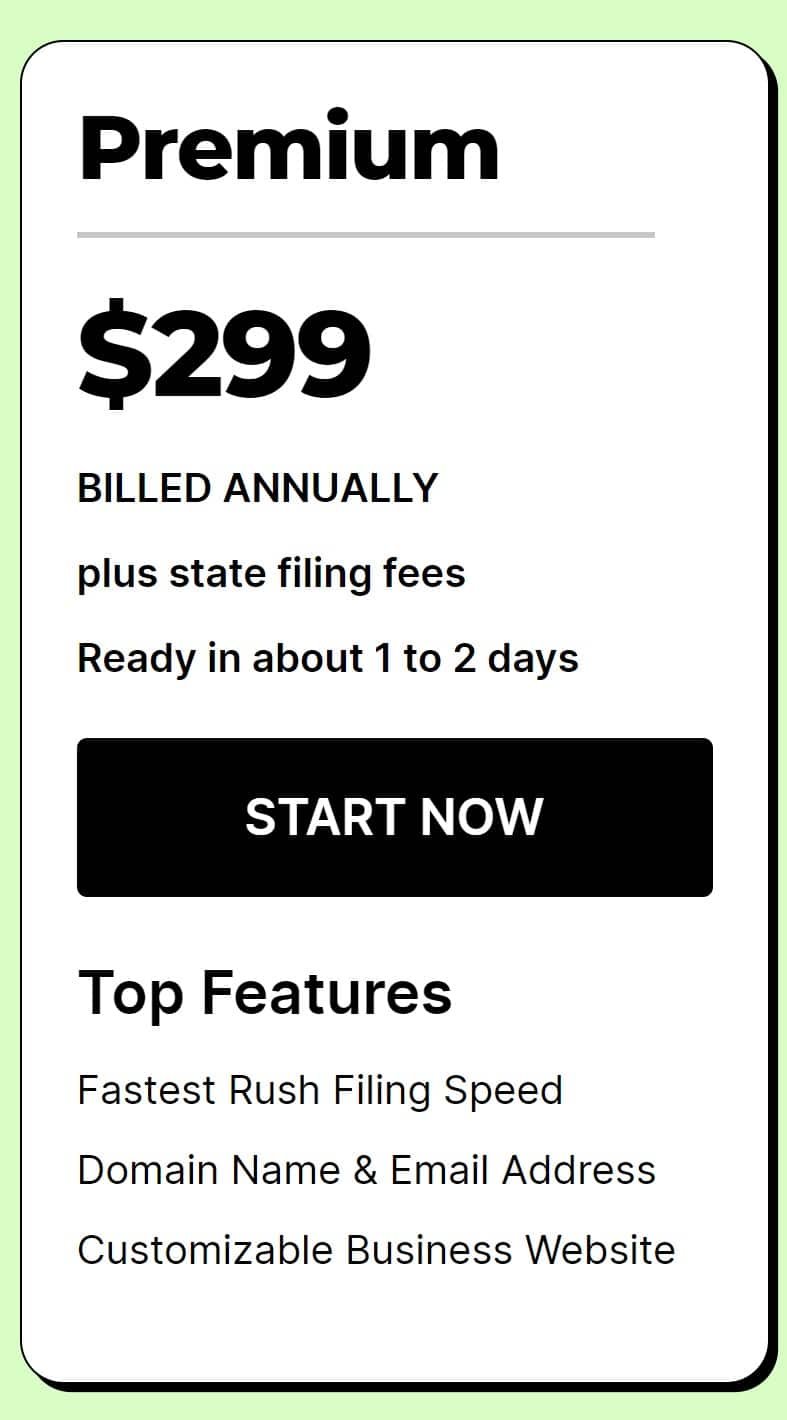 ZenBusiness Add-ons
Business Name Reservation- $50
Registered Agent Service – $99
Business Document Templates Library- $99
Expedite Filing Speed- $50
Rush Filing Speed- $100
Banking Resolution Template- $30
Employer ID Number- $99
Worry-free Compliance- $199 yearly
Business Website- $129 yearly
Business Domain Name- $25 yearly
Business Domain Name Privacy- $10 yearly
Business Email Address- $25 yearly
Annual Report Filing- $100 + state fees
New York Publication- $200 + publication cost
Filing Amendment- $100 + state fees
Certificate of Good Standing- $100 + state fees
Business License Report- $99
Google Ads Credit- $150 value
You should also note that users have complained about limited functionality and templates for their websites. A website builder such as Wix or WordPress is more appropriate if you are planning to start a business that heavily relies on your website.
You'll have more options and can tailor your website to meet your needs as a specialist service in this field.
There are three options for pricing. The Starter plan is perfect for small businesses on a tight budget. The Premium plan offers convenience while remaining affordable. The Pro plan is the best value for most businesses. It offers peace of mind and worry-free compliance.
This plan is a good investment to make sure your business is legally established and you are starting it correctly.
These plans are good value due to their LLC filing assistance. However, this is only necessary when your business is just starting. These plans are less valuable and less useful in the years to come, so it's worth considering canceling them after you have used all of their benefits.
ZenBusiness Business Formation Services
ZenBusiness is most well-known for its services in business formation. ZenBusiness can help you create an LLC or a corporation. ZenBusiness will file your paperwork with the state. ZenBusiness will provide you with all your documents directly from your dashboard. It makes it easy for you to find the information you need.
ZenBusiness offers four primary filing options:
LLC
C Corp
DBA (doing business under)
Reservation of business names
ZenBusiness can assist you in the filing process of each entity. You should choose the right business form for you. The ZenBusiness website has a lot of information on the differences between the filing types.
ZenBusiness offers the possibility to reserve your business name. This is an option that many new business owners may not know about. It can be not easy to choose the right business name. You don't want that name to get lost while you work out your business details. ZenBusiness can reserve your company name before you register your business.
This gives you the opportunity to choose your structure and start the paperwork. The time frame will vary depending on the state you live in, but many states allow you to lock your name for up to 120 days.
ZenBusiness also offers many services to help you get your business up and running faster. ZenBusiness' operating agreement template will help you protect your personal assets as well as outline the business rules and ownership. It helps you ensure that you don't miss anything when planning or outlining your business.
ZenBusiness can assist you with getting an EIN to run your business. Your EIN is required to open a bank account for your business, hire employees, separate your personal and business finances, and make other financial transactions. ZenBusiness can provide an EIN and you can keep it in your dashboard.
ZenBusiness Business Operation Services
ZenBusiness provides a range of services to help you manage your business professionally once you have created it.
ZenBusiness makes it easy to register a domain name for your business. The domain can be used for your website and business email. It costs $25 per year to register. This is a crucial step in branding your company and creating an online presence.
ZenBusiness offers the option to design and manage your own business website. To save time and build your business, you can link the site to your domain name. ZenBusiness offers limited information about website building, but it provides the convenience of having all your state filings, website registration, and domain registration in one place.
ZenBusiness can also be used to file your annual reports. It can be tedious and time-consuming for businesses to file annual reports in many states. ZenBusiness makes it easier to file an annual report. Missing deadlines could lead to your business falling out of compliance.
You will receive notifications from ZenBusiness to be kept informed about the approaching deadlines for your annual reports. To save time, you can access your annual reports documents in ZenBusiness and track them right there.
ZenBusiness Review Summary
ZenBusiness offers a great option for business owners looking to get some advice and reassurance while they set up their businesses. The first year of this service is very valuable, especially if your concern is about the legalities of establishing a C Corp or filing an LLC. ZenBusiness is a great option for those who don't want to hire a lawyer.
I hope that my unbiased ZenBusiness review is helpful to my readers. 
It will increase your chances of setting up your business properly and paying taxes. Although some plans lose value after the first year due to a decrease in their value, ZenBusiness can still be useful for entrepreneurs who are trying to navigate the difficult first year of starting businesses.
Business808, a renowned consulting organization that aids startups in scaling and growing, is led by Andy Brooks as Editor-in-Chief.
Andy has over 12 years of consulting experience and is a pro at creating and managing profitable businesses. He has experience working with several LLCs and Registered Agent services and has a degree in business management. Andy enjoys providing useful information for Business808.
In addition to writing for Business808, Andy is a well-known author and speaker, and an active contributor to several online business publications, imparting his knowledge on how to grow an LLC.