LegalZoom vs ZenBusiness: Both LegalZoom and ZenBusiness can help you keep your business compliant when you start a new company. These platforms offer resources that will help you succeed in your industry and protect your business.
I compared LegalZoom vs ZenBusiness and how the platforms stack up in terms of their services, processing times, ease of use, customer support availability, and other factors to help you understand how they could benefit your business. Both ZenBusiness and LegalZoom are ranked on our list of best LLC services for 2023.
The ZenBusiness platform makes it easy to start your new business. It provides fast processing and worry-free compliance to help you reduce stress and keep your business on track. ZenBusiness's speed combined with high-quality accounting services will help you grow your business. Start your company for $0 plus any state fees.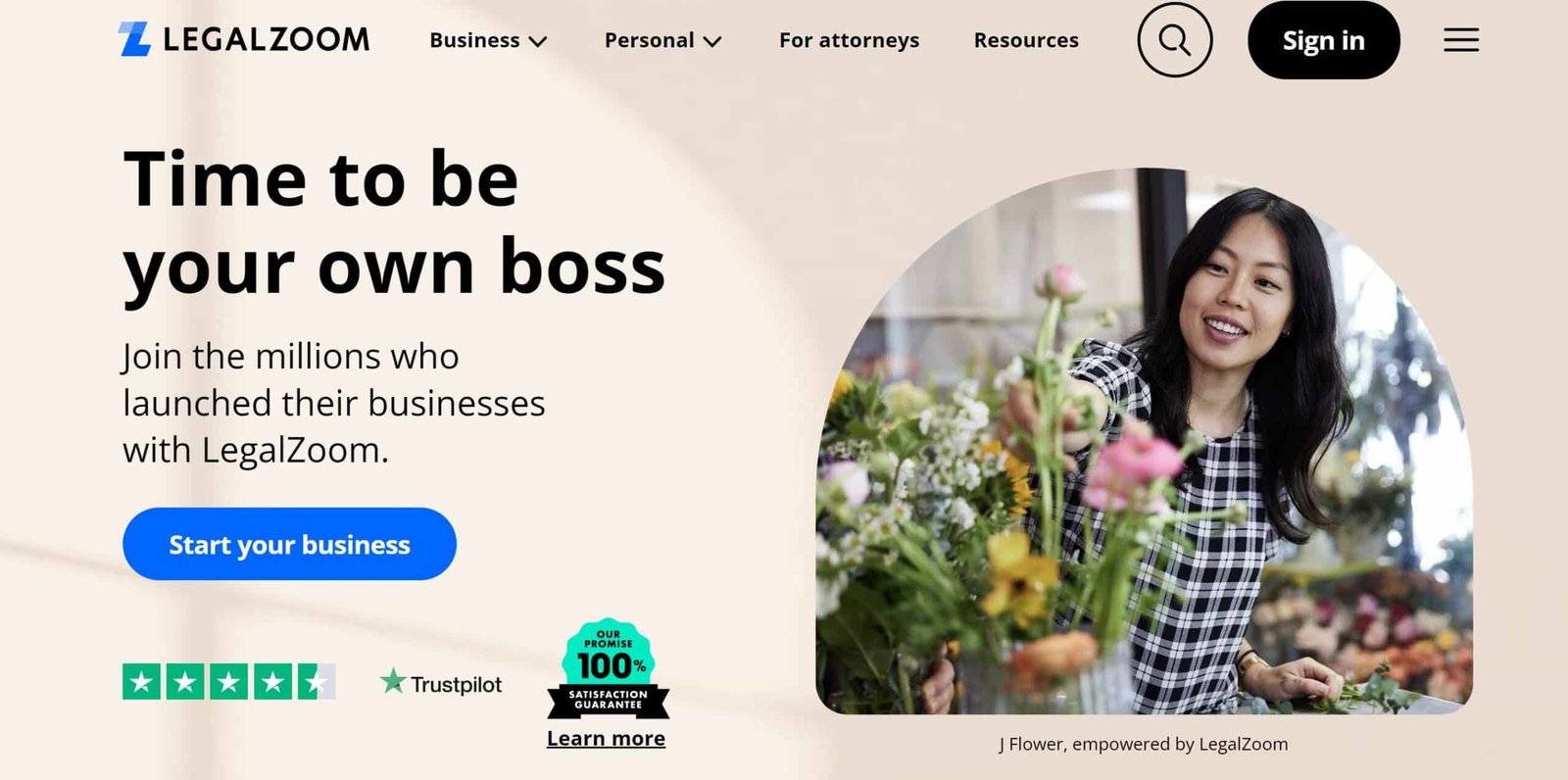 LegalZoom is an industry veteran with extensive knowledge in business regulations. Its services can protect your products and business. It is able to provide expert knowledge about local regulations and ensure that your business is compliant. Create your LLC for $0 and pay the state filing fees.
Comparison of LegalZoom and ZenBusiness: The Best Business Formation Services
For my top picks for the best business formation service, ZenBusiness was voted in the top 3 best, while LegalZoom was praised as a great choice for legal help when forming a company.
Incfile provides free business formation services, with the same quality and professionalism you would expect from a paid service. Get Incfile's expertise and a year of free registration to start your business
Northwest Registered Agent is the best way to incorporate your business and find professional resources, such as a registered agent. Register for a free account and get an all-in-one solution to your business formation.
Rocket Lawyer provides legal advice as you form your business. It eliminates the risk associated with creating important documents by hand. Get legal advice before you open your business.
LegalZoom compared to ZenBusiness
LegalZoom and ZenBusiness offer great solutions to help you start your business. They also keep you in compliance with all industry regulations. They offer resources for all types of businesses including corporations, LLCs, and non-profits. You can also get sound legal advice to protect your business. We'll go into more detail and explain how ZenBusiness and LegalZoom can help you.
ZenBusiness Highlights
ZenBusiness is a top choice among the best business formation services reviews. This is a great choice for new business owners. It is an all-in-one platform that provides comprehensive resources to help you form your business.
If you are just starting your business journey, it can help you with everything from market research, cost calculations, branding, and structuring your business.
ZenBusiness allows you to create an LLC without paying any state filing fees. A corporation or nonprofit can also be set up with ZenBusiness. The company won't leave you after you are up and running. It provides services to help you manage your business. Worry-Free Compliance keeps you informed about everything you need to file to reduce your business' risk.
ZenBusiness offers accounting services to handle tax obligations and invoicing. ZenBusiness offers solutions that can help you get funding, open new locations, or buy businesses that will support yours.
LegalZoom Highlights
LegalZoom offers so many services it can seem overwhelming at first glance. The company allows you to register your business as an LLC or corporation, DBA nonprofit, sole proprietorship, or corporation. LegalZoom can help you determine which one is right for you.
LegalZoom offers solutions to help you run your business once it's started. This includes licensing and agreements, registered agents, and legal knowledge. LegalZoom provides more than just basic business formation. It protects your intellectual property via trademark and copyright. This ensures that your brand is protected and your business remains unique.
LegalZoom offers personal services such as wills and trusts, family law help, and real estate.
LegalZoom vs ZenBusiness: The Pros and Cons
LegalZoom and ZenBusiness both serve large-name clients. They offer services to help you not only create your business but also keep it compliant and growing. However, this doesn't necessarily mean that they are right for you. We've listed their strengths and weaknesses so you can decide if each service is right for you.
ZenBusiness shines
Streamlined platform: ZenBusiness stores all of your business information in one location so you don't need to move to other platforms for the next steps. You can file quickly and keep your information up-to-date with minimal effort by having everything in one location. This service tracks every step in your business's development and provides services such as filing, invoicing preparation, and filing. It also shows growth factors for your business.
Fast Processing ZenBusiness claims that it can file in as little as four to six days for its Pro package. LegalZoom takes 10 days. The free package usually takes 2 to 3 weeks. This is faster than LegalZoom's 30-day processing time for the same plan. ZenBusiness offers expedited filing for its Premium and Pro plans. This is great for those who are in a rush or need to have their filing completed quickly.
Worry-Free Compliance: This is one of ZenBusiness's most useful and unique features. Worry-Free Compliance sends alerts to let you know when regulations or compliance changes are occurring and when a deadline has passed. This allows you to focus on your business and reduce stress. Worry-Free Compliance covers your annual reports, which will help you keep your business in good standing.
Accounting Services. ZenBusiness's tax and accounting services offer more than just quarterly or annual filing. This makes it an upgrade to LegalZoom. ZenBusiness's accounting and tax services provide a complete accounting solution for your day. It handles invoices, bookkeeping, payments, and bookkeeping. ZenBusiness also offers small business services that make taxes easier and more efficient.
Affordable Plan: ZenBusiness offers one of the most accessible business formation services due to its affordability. The Pro plan is significantly less expensive than LegalZoom's. Both offer $0 in starting packages (plus filing fees), but ZenBusiness's Pro package costs $249 and its Premium package costs $349. This puts them both at $50 less than LegalZoom's plans with similar features.
Registered Agent Pricing
LegalZoom $249/year
ZenBusiness $99/year
(The ZenBusiness terms of service state that ZenBusiness may outsource its registered agent service to 3rd parties, But they don't mention who that is.)
You acknowledge and agree that ZenBusiness may work with third-party providers (along with ZenBusiness each, a "ZenBusiness  Registered Agent" or "Registered Agent") of our choice to provide some or all of the Registered Agent Services. You acknowledge and agree that any such Registered Agent may provide Registered Agent Services to you and you consent and agree to ZenBusiness entering into any third-party terms on your behalf for the limited purpose of providing you with the Registered Agent Services.
BTW: Northwest Registered Agent has 50 offices in 50 states, with 700+ employees providing registered agent service to over 3 million businesses in the U.S.
These packages include essential features such as faster filing, Worry-Free Compliance, and guided operating agreements. ZenBusiness allows you to create your own website and obtain your own email address and domain name.
ZenBusiness offers excellent customer support and resources. Chat, phone and email are all options for contacting an expert. You can also access written guides and articles on the website to get help. You can also ask questions directly and get answers through the Q&A section. ZenBusiness also offers resources for small businesses that will help you choose the right business formation option and guide you through each step.
ZenBusiness needs improvement
Decreasing Subscription Value: ZenBusiness's plans seem great at the first glance. They are for many businesses. However, over time you will get less for the money you pay. Some registration features, such as forming an LLC, are usually one-time services. You still have to pay the same price each year, which may lower the business's value.
Limited website capabilities: ZenBusiness allows you to create your business website using its services. This is a great option if you are just starting out. Keep in mind, however, that you may be able find better templates and more customization elsewhere. Check out the options available from other website builders before you start creating your site.
The most expensive registered agent add-on: ZenBusiness does not include a registered representative in its package. You will need to purchase the $199 upgrade if you wish one. Although it's cheaper than LegalZoom's $249 option ZenBusiness's Pro package is $199, so this add-on will cost twice as much.
LegalZoom shines
Comprehensive Business Services ZenBusiness offers many services but LegalZoom has a better selection. You can use it for all types of business, such as sole proprietorships, corporations, nonprofits, and corporations. It also protects your brand and focuses on the legal aspects of starting a company.
Local Legal Compliance While many business formation services are focused on international or national compliance, local regulations are equally important. LegalZoom does not neglect any aspect of compliance. The company's website contains information about the laws and procedures for forming LLCs in all 50 states. You can also find documents you can refer to make sure you comply. This is particularly useful as each state has its own laws. LegalZoom makes it easy to reference these documents when you need them.
Extensive Experience: LegalZoom is a 20-year-old company that has had plenty of experience in legal compliance. Their experts have a lot of experience and more than two million clients over their history. You can be sure that they will help you establish your business in the best way possible.
IP ServicesZenBusiness does not offer any specific services in intellectual property, making LegalZoom the leader in this field. LegalZoom offers all the services needed to file trademarks and patents. These are useful if your invention is unique or you create artwork, such as a song or visual logo and you want to protect it. This protects your brand and prevents others from using your name, logo, or other elements that can help customers identify you business.
Customer Service Quality and Availability: LegalZoom strives to provide the best customer service possible. This shows that they are attentive to customers' needs and wants. Contacting support is a great way to solve your problem, get the information you need to grow their business and keep it compliant. They are available by phone, email, or chat between 5 and 7 pm on weekdays, and 7 to 4 pm on weekends. This makes them more accessible than many other companies, such as ZenBusiness.
LegalZoom's Needs for Improvement
Additional Services and Costly Plans: Extra services can come at additional costs. However, even LegalZoom's initial plans can be expensive. You get more help and resources than ZenBusiness, with the Pro plan costing $249 and Premium at $349. It depends on how much assistance you need to form your business. However, this might not be an option for you if you have a tight budget. You get the company's name and feel secure knowing you are in good hands.
The wait time for LLC formation is Although ZenBusiness will take up to three weeks, some customers report wait times of as much as 30 days with LegalZoom. This is not ideal if your deadlines are tight. LegalZoom does not have the Worry-Free Compliance features ZenBusiness has to ensure you're always up to date.
Too many upsells: LegalZoom offers many services, but you won't be able to get the most important ones unless you purchase extras. It doesn't include an operating agreement or registered agent. ZenBusiness, on the other hand, includes both an operating agreement as well as EIN. LegalZoom's only add-on that is cheaper than ZenBusiness is the registered agent.
Less Accounting Services: LegalZoom offers extensive legal advice and essential tax compliance service, but doesn't offer the same day-to-day accounting services as ZenBusiness. It is more focused on compliance than it is on providing tools for invoicing or other business-related needs. LegalZoom may not have this issue, but it is a disadvantage for some business owners who appreciate having all their information in one place.
LegalZoom vs ZenBusiness: The Last Word
Both LegalZoom and ZenBusiness provide many services that will make it easier to start your business and keep it compliant. Each service provides the necessary legal advice, documents, and accounting services. This allows you to be more productive in running your business.
ZenBusiness's speedy processing and worry-free compliance make it a great choice for first-time business owners and small businesses, even though it has expensive registered agent services. LegalZoom is a great option for legal advice and experience. However, some may be discouraged by the wait times and high cost.
ZenBusiness and LegalZoom can be great options for setting up your business. However, there are many other options. To learn more about companies that might be a better fit for you, check out our reviews of the top business formation services.
Business808, a renowned consulting organization that aids startups in scaling and growing, is led by Andy Brooks as Editor-in-Chief.
Andy has over 12 years of consulting experience and is a pro at creating and managing profitable businesses. He has experience working with several LLCs and Registered Agent services and has a degree in business management. Andy enjoys providing useful information for Business808.
In addition to writing for Business808, Andy is a well-known author and speaker, and an active contributor to several online business publications, imparting his knowledge on how to grow an LLC.