LegalZoom Review: LegalZoom is the most common name you will think of when thinking about online legal services. It is widely considered the industry leader. Today I will be looking at the service, it's pricing and other details.
LegalZoom is a trusted name in the legal industry. They can help you with any type of legal matter, whether they are personal, business, or professional. Although it isn't the most affordable LLC service, LegalZoom has strong brand recognition and its online customer reviews have improved over the past 3 years.
My LegalZoom review compares the pros and cons of its business formation service and I explain why I think LegalZoom is a good choice for your next online legal service provider.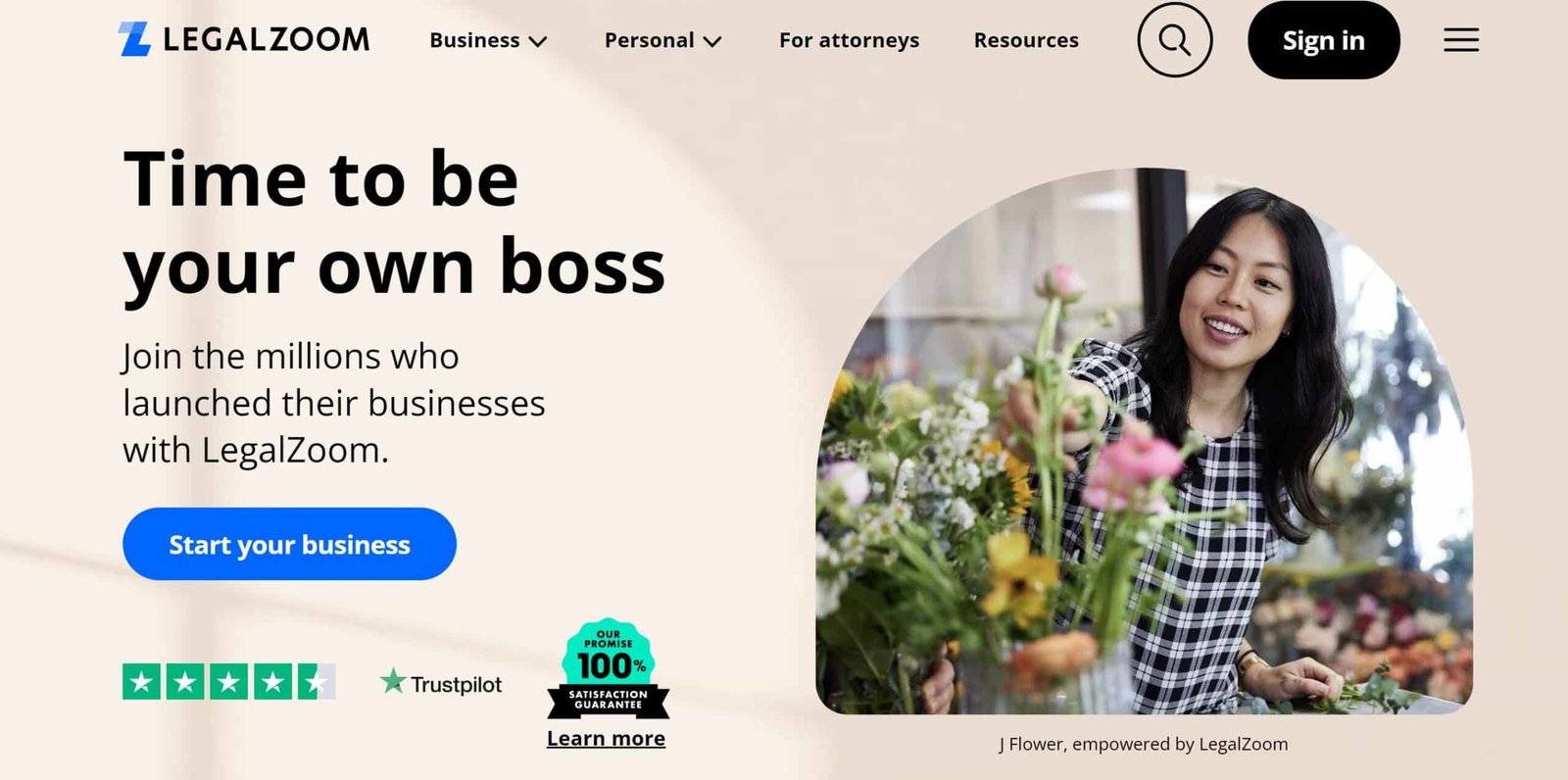 LegalZoom compared to the Best Online LLC Services
LegalZoom offers some of the best online legal services. LegalZoom is here to help you whether you need advice on family law, intellectual property protection, or forming a business.
LegalZoom was included in our top online LLC services list for all of these reasons.
View all of our top picks as well as the methodology used to create our final lineup. This is useful to compare LegalZoom with other top choices in terms of price and services.
LegalZoom is a good option for businesses that need ongoing legal advice. Although it is more expensive than other services, this may be the best option for businesses that require ongoing legal advice.
LegalZoom: The Good and The Bad
LegalZoom is a leading provider of online legal services. It offers a lot of benefits to potential customers. Even the most reliable providers can still make improvements. To help you decide if LegalZoom is the right choice for your company, we'll take a look at all the benefits and drawbacks of their offerings.
The Good
Industry Experience LegalZoom is the industry leader in online legal services for more than 20 years. It has helped more than 2 million entrepreneurs and small-business owners make their dreams come true by helping them form their own companies. This level of expertise means that you can be confident that your legal needs will be met.
A Wide Range of Legal Services: If you are looking for an all-in-one solution for your personal, business, and professional legal needs, LegalZoom may be the right one. LegalZoom offers the widest range of services in the industry. LegalZoom covers everything you need, from business formation to intellectual and property protection, registered agent services to tax agreements and contracts, to tax contracts and agreements. LegalZoom will provide all the services that you need to launch and manage your business.
Affordable Business Consulting Plan:LegalZoom offers a Business Advisory Plan that provides business owners with year-round legal assistance for a flat monthly fee. This plan is ideal for those who need regular legal assistance, such as with contract and agreement writing, copyrights and legal forms, or general advice to protect their business. This plan is far cheaper than using LegalZoom's one off services, and it's also the most affordable.
Excellent Customer Support: In the past, customer reviews of LegalZoom's support were inconsistent and disappointing. Recent reviews have shown that they have improved their customer support. Customers continue to praise their support representatives and report great customer service. The support team is helpful, friendly, and very knowledgeable. This is exactly what you would expect from a support staff.
Extended Customer Support hours: LegalZoom offers extended support hours to customers in contrast to other providers. LegalZoom's support staff can be reached on any day of the week. The US-based support team can be reached via email, phone, and live chat between 5am and 7pm (PT), Monday through Friday, and 7am to 4pm on weekends.
Long Satisfaction Guarantee: While many online legal service providers offer some form of satisfaction guarantee, almost none offer two months. LegalZoom will make every effort to resolve any issues you have with their services.
Knowledge about Local Laws: You can be sure that LegalZoom's services will work for you in the United States. LegalZoom is legal in all 50 US states and has documents that conform to individual state laws. LegalZoom is a national company, but it uses local lawyers to ensure that you comply with local laws and regulations. The laws for forming an LLC can vary from one state to the next, making it crucial for LegalZoom that they operate in this way.
The Bad
Not The Cheapest Service:LegalZoom may not be the cheapest service provider, but they are certainly not the most expensive. Their one-off services tend to be more expensive. The lead-in package for business formation starts at $79 plus the state fees. It doesn't include any impressive or advanced features. This means that you're paying for the services of an experienced and trustworthy provider. I consider this a bit more expensive.
Excessive upsells: If you want to start a business with LegalZoom you will be faced with a series of upsells just before you get to the package selection screen. The process was quite complicated for us. The process assumes you will use LegalZooms registered agent services and does not provide any information about the cost involved. Some of the additional services, such as operating agreements and EINs, are already included in other providers' packages.
Expensive Registration Agent Services: LegalZoom's registered agent service cost $299 per year. Most competitors offer registered agent services at around $150 per year, while some others go as low as $100. ZenBusiness and Incfile offer registered agent services free of charge for the first year.
Slow Turnaround: LegalZoom has a slower turnaround time than its competitors for business formation. LegalZoom will take 30 days to complete your business formation process. While you might get your documents from other providers within seven days, LegalZoom can take up to 30 days. Even LegalZoom's expedited services take 10 business days to complete.
LegalZoom Pricing Options and Pricing
LegalZoom provides a variety of online legal services, as I mentioned. We'll be focusing on LegalZoom's business advisory plan and business formation services for the purposes of this review.
LegalZoom's services for business formation start at:
LLC formation: $79 plus state filing fees
Corporation formation: $149 plus state filing fees
Services of a registered agent: $299 per year
These prices are certainly not the most expensive in the industry. However, if you look closely at the features that you get for your money they aren't very high-value.
The lead-in formation packages, for example, include the basic features of a comprehensive name search, paperwork filing, an online tracker, lifetime customer service, digital access to formation documents, and an online order tracker. They include only the essentials.
LegalZoom, on the other hand, offers business owners who need ongoing legal assistance access to their Business Advisory Plan at a reasonable price. You'll get access to an attorney for a flat monthly charge. This will allow you to review contracts and agreements and provide personalized advice.
The Business Advisory Plan pricing is $39.08 per Month over 12 Months or $43.16 Per month over 6 Months.
We'll discuss the pricing of each service below. But the main takeaway is that LegalZoom is not the best choice if you are looking for the most affordable online legal service provider.
LegalZoom is an excellent choice if you're looking for a reliable and experienced provider who can assist you with any legal issue.
LegalZoom LLC Services
LegalZoom has more than 2,000,000 businesses set up LLCs.
LegalZoom makes it simple for anyone to get started. It is easy to get started and the prices are very affordable. It's easy to start your business.
Tell LegalZoom everything about your business
Choose your preferred package for business formation
Relax and let LegalZoom prepare and file your paperwork.
LegalZoom's business name availability checker is also available. This will ensure that your chosen business name is in stock. You can skip this step if you aren't sure yet.
LegalZoom will try to sell you a lot of packages before you can choose your business formation package. You don't really need all of these products. If you are looking to start your own business, these packages may not be necessary. They can always be added later.
After wading through all the upsells, eventually, you will land at the LLC packages. Then, you'll be asked to choose one of these:
Economy: $79 plus state fees
Standard: $329 plus state fees
Express Gold: $349 plus state fees
All plans include a complete name search, business entity filing, Peace of Mind review and a 30-minute tax savings consultation. Standard and Express Gold packages include a deluxe creator's kit, personalized business embosser, and membership certificates.
What is the key difference between these three packages? Filing time. The Express Gold Express shipping option offers a 10-day turnaround for Express Gold and Standard packages.
LegalZoom Incorporation Services
LegalZoom is another popular choice for companies looking to incorporate. It allows businesses to create a C Corporation or an S Corporation.
LegalZoom's support staff is available to provide personalized advice if you aren't sure which option is best for you.
LegalZoom makes it easy to incorporate your business. LegalZoom will ask you questions about your business and then choose the package option that suits your needs.
Pricing and packages for incorporation by LegalZoom are:
Economy: $149 plus state fees
Standard: $329 plus state fees
Express Gold: $349 plus state fees
All plans include a business name availability check, incorporation documents, filing, and lifetime customer service. You also get a "next steps" guide and peace-of-mind review. Standard and Express Gold incorporation packages include a deluxe organizer as well as official seals and certificates.
You can pay $20 more for the Standard plan if you are willing to pay. The Express Gold package will allow you to receive express shipping and rush processing from the Secretary of State.
The turnaround time is the biggest difference between these plans. The Economy plan, with its 30-day turnaround, will be sufficient if you are not in a hurry to form your company. If you're in a hurry to form your corporation, the Economy plan with its 30-day turnaround will suffice.
LegalZoom Agent Services
It doesn't matter what you do, every business must have a registered agent.
Official mail acceptance is handled by registered agents on behalf of your company. This includes court documents (if served), official mail from the state, state tax notifications, secretary notifications, annual report notices, and state tax notifications.
They help you to stay compliant and ensure that you don't miss important filing deadlines.
LegalZoom's registered agent services start at $299 per year and include:
$1,000,000 Identity theft Protection and Credit Monitoring
Unlimited cloud storage for business documents
Access to the compliance calendar, including important deadlines
When switching from an existing RA, coverage for fees and paperwork
It is a good idea to use the same service provider for your business formation and registration agent to ensure everything runs smoothly. LegalZoom offers registered agent services to business formation customers at a reduced rate of $249 in the first year.
However, if you are looking for standalone registered agent services, there will be cheaper options elsewhere.
LegalZoom Rankings
LegalZoom is a leading online legal service. LegalZoom is a reliable and trustworthy solution that offers a variety of solutions for personal, business, and professional legal needs.
LegalZoom offers everything you need, from business formation to registered agent services, lawyer consultations, trademark registrations, and estate planning. It is trusted by over two million users and is the most widely used online legal service.
It's worth noting that some of LegalZoom's services are a bit pricey compared to the competition–specifically when it comes to registered agent services. If you have a tight budget, you might want to look elsewhere.
View all of our top picks to find out more about LegalZoom alternatives, and in-depth reviews of other options in online legal services.
Summary
I hope this LegalZoom review was helpful.
LegalZoom is a leading provider of business formation services. You can access ongoing legal advice and flexible legal services for a flat monthly charge. LegalZoom's basic formation packages are affordable, but they allow businesses to easily form their business without spending a lot.
LegalZoom, an industry leader in online legal services and business formation, is the best option for you.
Business808, a renowned consulting organization that aids startups in scaling and growing, is led by Andy Brooks as Editor-in-Chief.
Andy has over 12 years of consulting experience and is a pro at creating and managing profitable businesses. He has experience working with several LLCs and Registered Agent services and has a degree in business management. Andy enjoys providing useful information for Business808.
In addition to writing for Business808, Andy is a well-known author and speaker, and an active contributor to several online business publications, imparting his knowledge on how to grow an LLC.